PrimaLuceLab - EAGLE5 PRO Computer for Telescopes and Astrophotography
Special Price
$1,975.00
Regular Price
$2,195.00
Free Shipping Available
The PrimaluceLab EAGLE5 Pro is a high-performance computer designed specifically for telescopes and astrophotography, offering desktop-class performance with a fast i5 processor, 16 GB DDR4 memory, and a large 500 GB NVMe SSD drive.
The EAGLE5 Pro features added connectivity with 10 USB ports, including Thunderbolt 3 and Thunderbolt 4 ports, and more powerful WiFi 6 wireless networking.
The EAGLE5 Pro comes in a lightweight, compact all-in-one design with a durable aluminum housing, making it easy to install on your telescope.
The EAGLE5 Pro includes advanced features such as a GPS sensor with high gain antenna, an EYE sensor to monitor sky quality, DARK mode to disable all LEDs, and new sensors like the Inclinometer and Motion Detector.
PrimaluceLab EAGLE5 PRO Computer for Telescopes & Astrophotgraphy
EAGLE5 PRO is a computer specially designed for telescopes and astrophotography that delivers the performance of a desktop computer. Equipped with a fast i5 processor, it comes with Industrial Grade 16 GB fast DDR4 memory and a large and quick 500 GB SSD drive Industrial Grade (NVMe). With added connectivity, it now features 10 USB ports (including 1 x Thunderbolt 3 with USB-C type connector and 1 x Thunderbolt 4 with USB-C type connector). It also includes new Inclinometer and Motion Detector sensors, and a more powerful WiFi 6 wireless networking. EAGLE5 PRO has a lightweight, compact all-in-one design with PLUS aluminum housing that can be easily installed on your telescope. It also offers all the advanced features of the previous EAGLE like a GPS sensor with high gain antenna to automatically detect your position and time, EYE sensor to monitor sky quality, DARK mode to disable all of the LEDs on the EAGLE, and much more!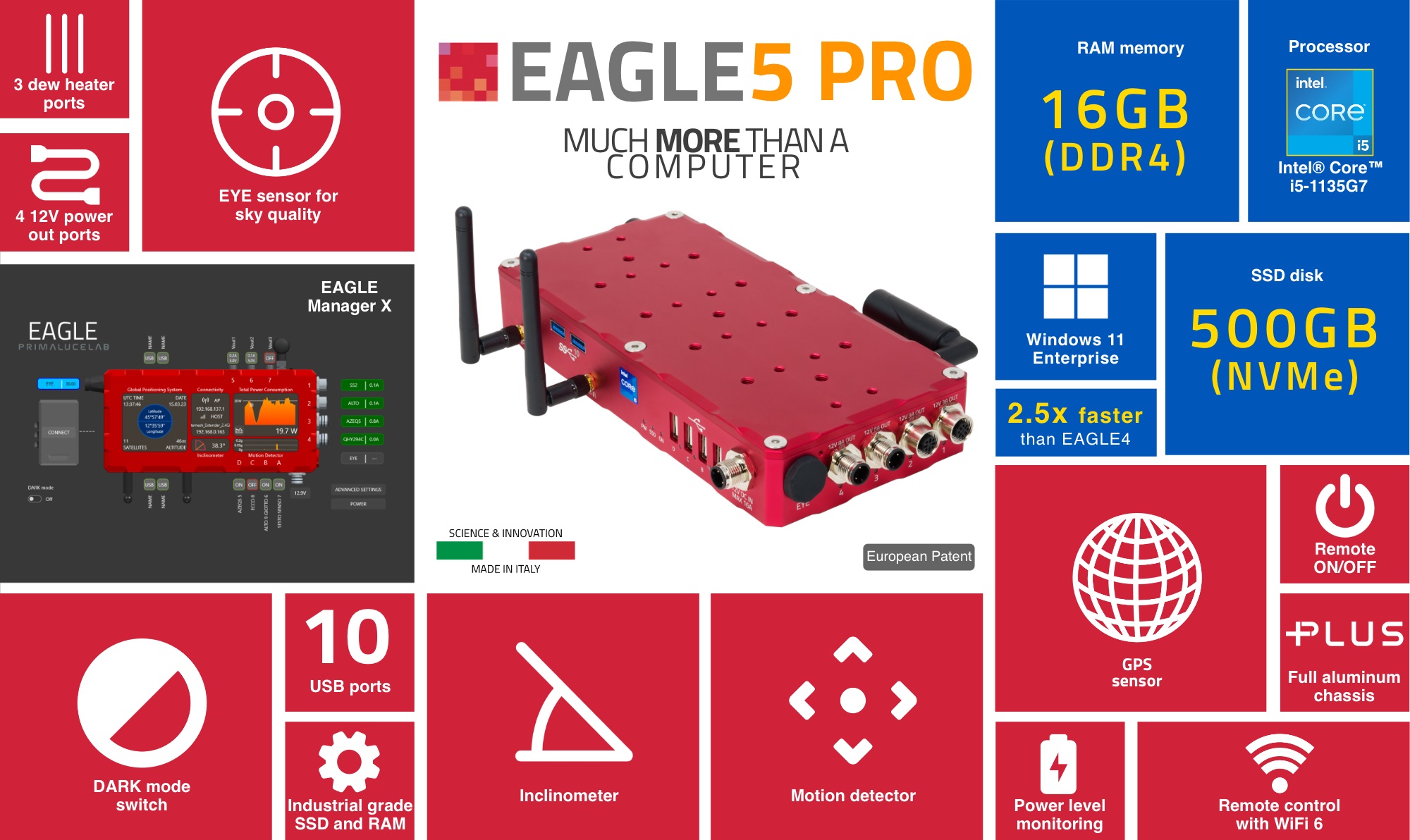 EAGLE5 PRO Features:
EAGLE5 Pro features an Intel's 11th generation i5 processor with 16GB DDR4 3200 MHz RAM and a 500GB SSD NVMe disk for fast and reliable performance, even in low temperatures.
The all-in-one EAGLE5 Pro includes a 10-port USB hub with a mix of USB 3.2, USB 4 type-C (Thunderbolt 3 and Thunderbolt 4), and USB 2.0 ports, as well as 4 12V power out ports and 3 variable 3-12V power out ports for powering your telescope and other accessories.
Other advanced features of the EAGLE5 Pro include a GPS sensor, EYE sensor, inclinometer, motion detector, and DARK mode for turning off all LED lights.
The EAGLE5 Pro comes with a PLUS aluminum case, weighing just 1.25 kg (2.75 lb), making it easy to attach to any telescope using rings, bars, or clamps. The device also includes an EAGLE Manager X interface for easy control of all features.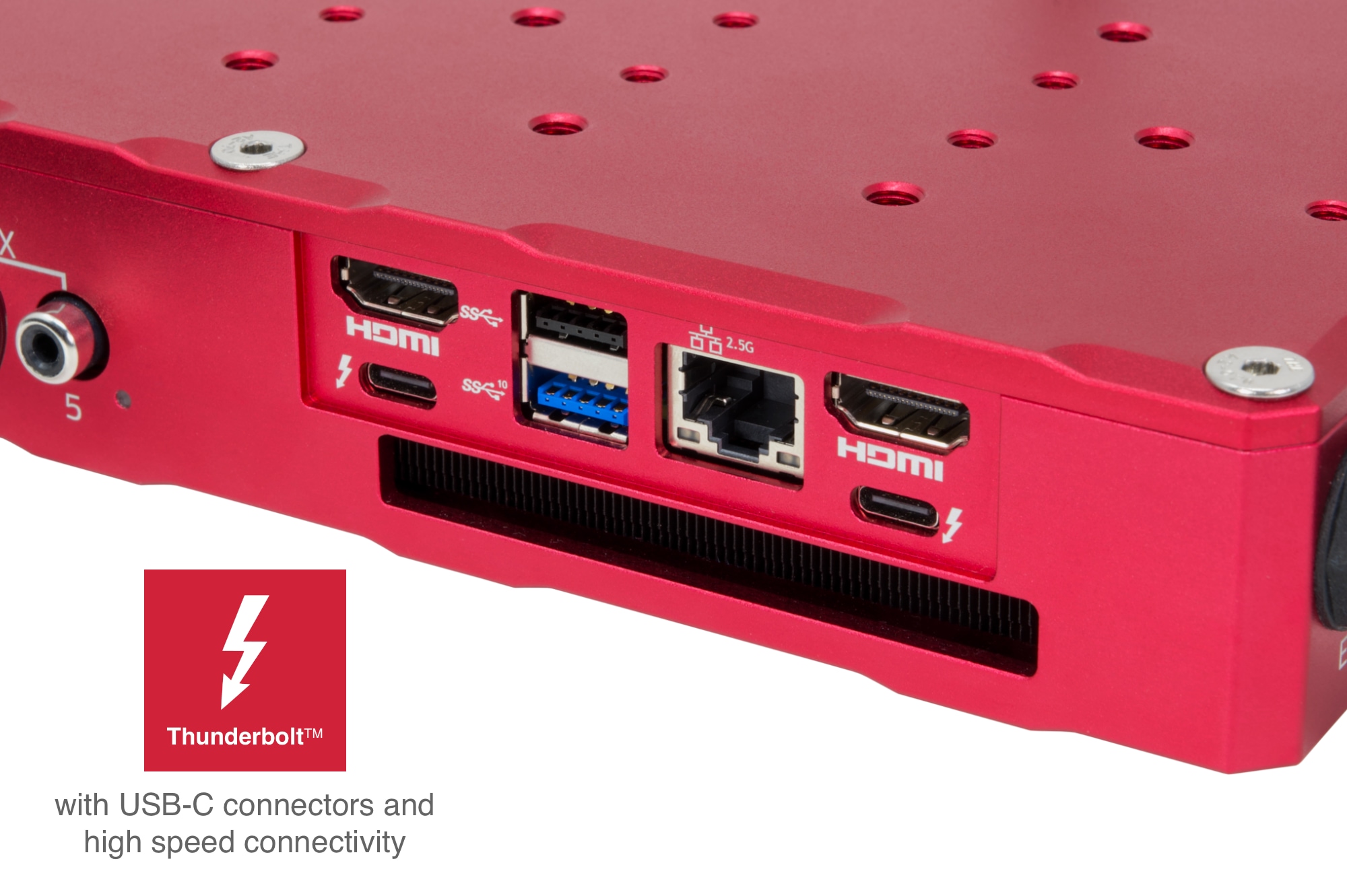 Desktop Class Performance & High Speed Connectivity
The compact form factor of the EAGLE5 PRO packs desktop-class computing power into a lightweight package, making it ideal for astrophotography and planetary imaging. Its 11th generation i5 quad-core processor provides high performance and energy efficiency, while its connectivity options include three USB 3.2 type A ports, two USB 4 (with type-C connector) ports with data transfer rates up to 40 Gbps, five USB 2.0 ports, two HDMI 2.0b ports, a 2.5 Gigabit ethernet port, and WiFi 6 802.11ax.
With the addition of Thunderbolt 4 and 3 ports with USB-C type connectors, the EAGLE5 PRO offers even more connectivity options with lightning-fast data transfer speeds of up to 40 Gbps, capable of powering up to 100 W (Thunderbolt 4) or 15 W (Thunderbolt 3), and the ability to daisy-chain up to six devices through a single port. USB-C's reversible design makes it easy to connect devices, including external drives, displays, multi-port docking stations, and audio devices, and even standard USB-C devices can be connected to the Thunderbolt port at speeds of up to 10 Gbps.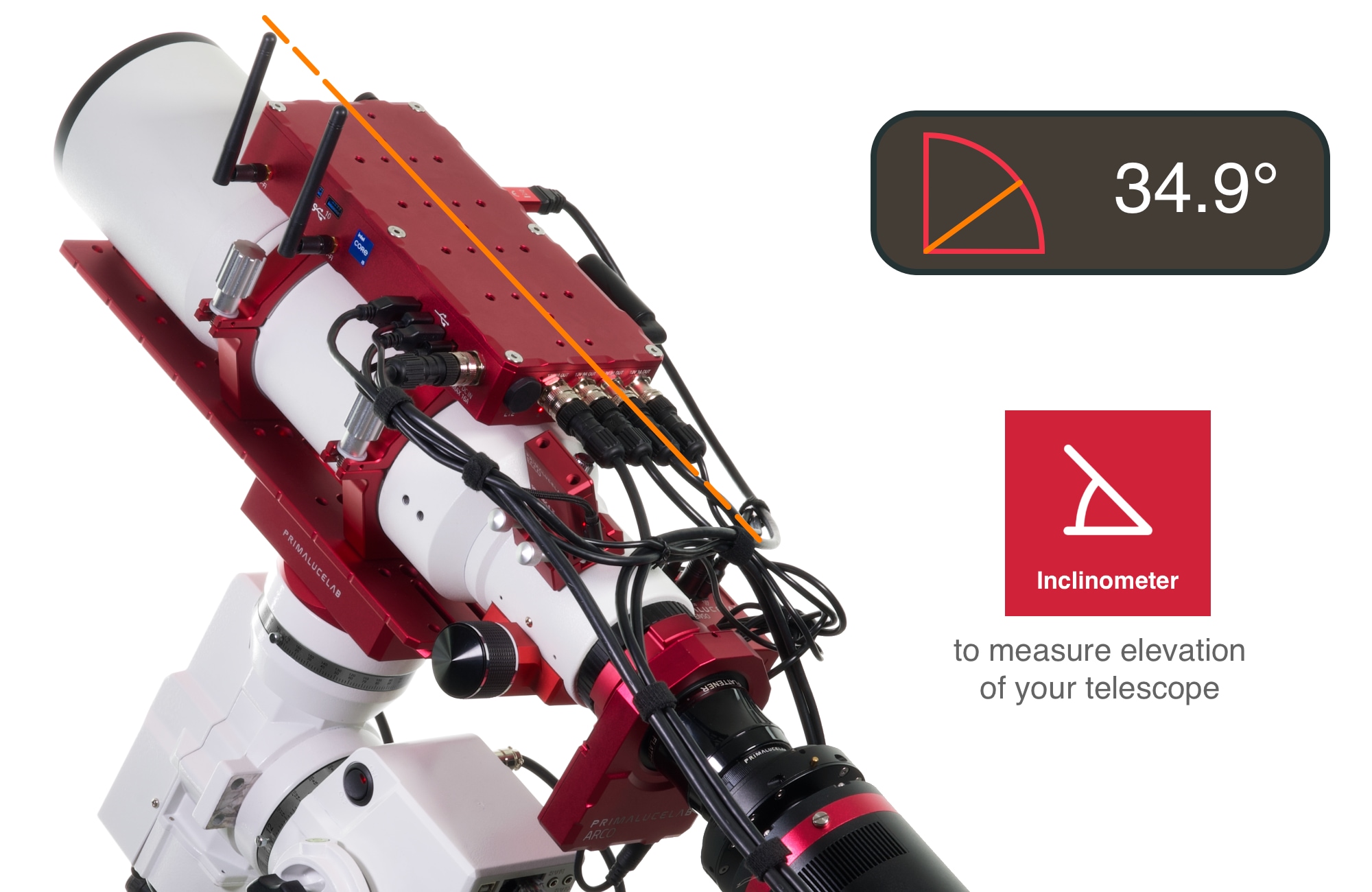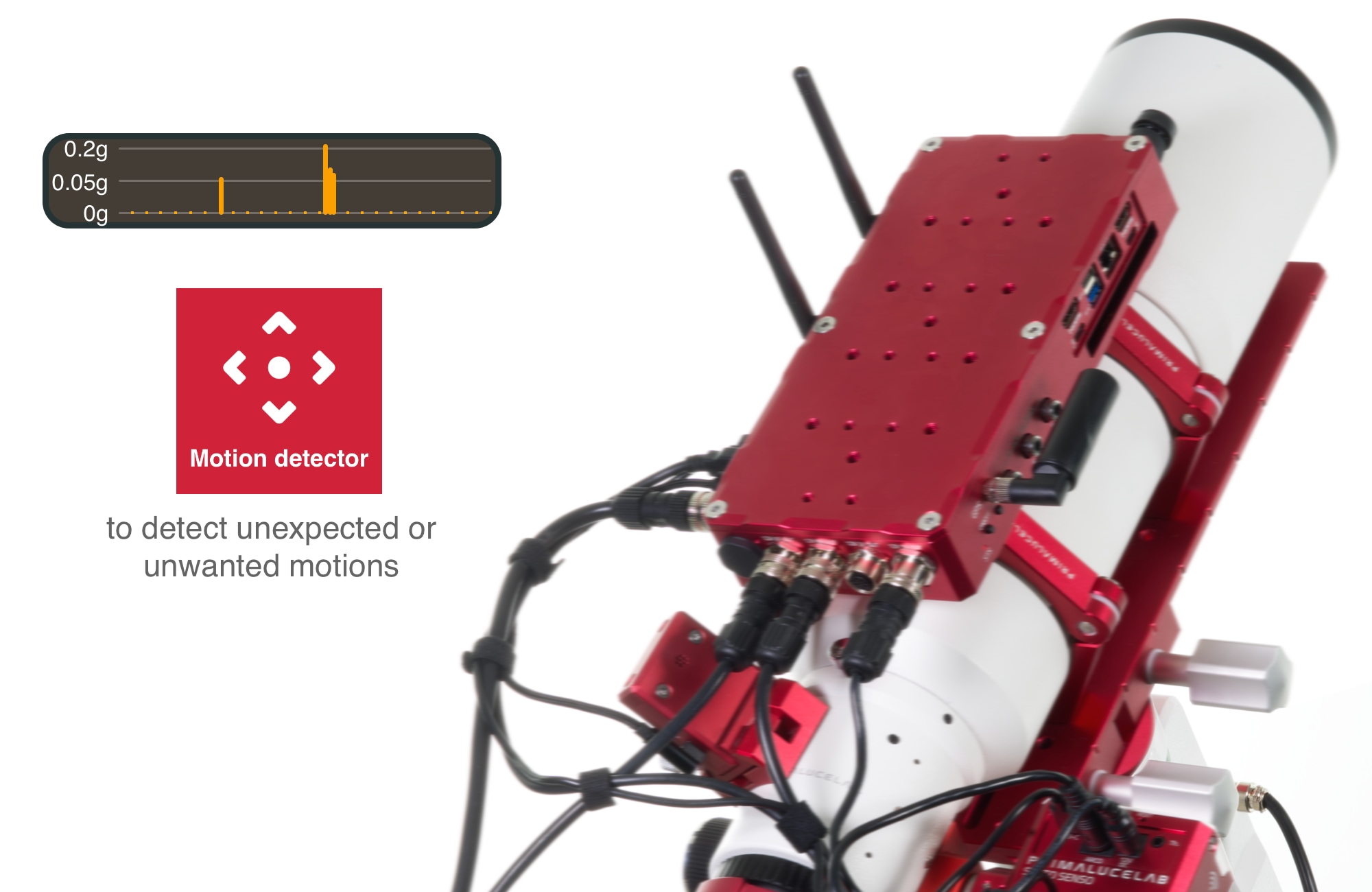 Motion Detector and Inclinometer
The EAGLE5 PRO is equipped with an Inclinometer sensor, which can measure your telescope's elevation with respect to the horizon level with a high degree of accuracy. It provides a resolution of 0.1 degrees and has an average error of less than 1 degree. The EAGLE Manager X interface displays the inclination data in real-time. As the EAGLE is installed parallel to your telescope, the elevation is accurately displayed even when the EAGLE is inverted, with the power out ports pointing towards the sky. This feature allows you to remotely check if your telescope is pointed at the correct elevation and if your equatorial mount elevation setting is correct according to your latitude or if your Alt-Az mount home position is correctly set in elevation.
When capturing a sequence of images, it's possible for one image to be blurry while the others remain sharp. This could be due to external factors such as wind gusts or cable snags, which may affect the tracking of your telescope during acquisition. To address this issue, the EAGLE5 PRO comes with a Motion Detector that detects unwanted movements and displays them in the EAGLE Manager X interface. The feature does not confuse the unwanted motion with mount tracking or goto movements. This enables you to use PLAY or third-party software that supports Motion Detector, to automatically repeat the last acquisition if the EAGLE detects unexpected motion.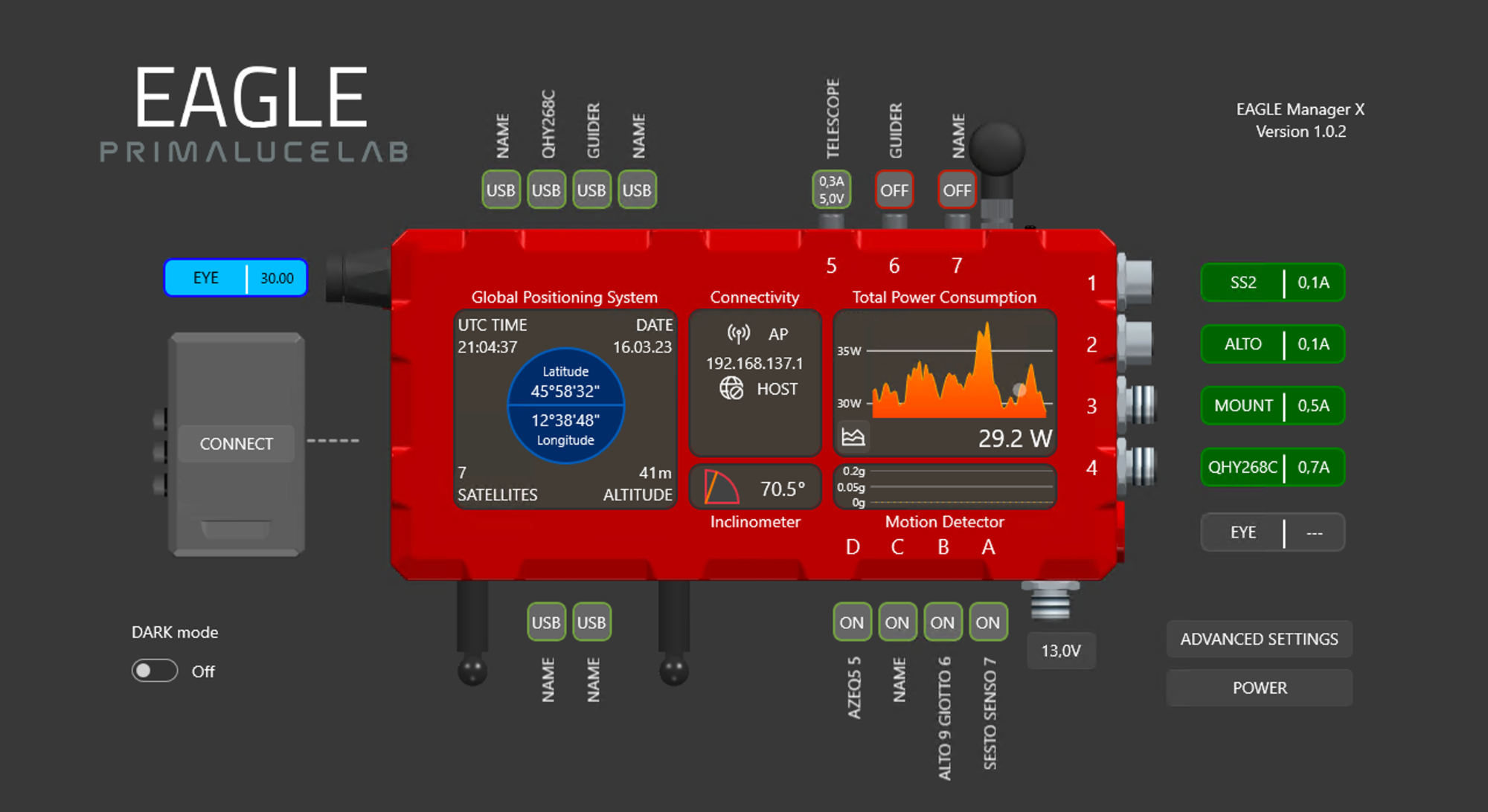 EAGLE X Manager X Interface
The EAGLE5 PRO is bundled with a software called "EAGLE Manager X" which automatically starts when Windows is booted up. The software provides a simple and user-friendly interface which enables you to perform the following tasks:
Enable/Disable all 12V power out ports: You can remotely activate or deactivate all connected devices (such as mount, camera, filter wheel, etc.) with the click of a button.
Check power consumption: You can monitor the power consumption of each 12V device connected to the EAGLE and also view the total power consumption of your telescope.
Name power and USB ports: You can assign custom names to each port to easily identify and manage them.
Check GPS data: The software displays information on the elevation, latitude, longitude, date, time, and number of connected satellites.
Check EYE sky quality: You can select the sensor that faces the sky and check the sky quality value.
Set power out voltage: You can adjust the power output of the 3 x 0-12V power out ports for dew heaters and monitor the current consumption.
Verify elevation: The inclinometer can be used to verify the elevation of your telescope in relation to the horizon level.
Motion Detector: The software displays motion detector data and identifies unwanted motions to allow for automatic repetition of the last acquisition in case of unexpected movement.
Dark Mode: You can turn off all the LED lights with this feature.
Connect or disconnect USB devices: You can easily connect or disconnect devices connected to the A-B-C-D USB 2.0 ports, without the need to physically access the telescope.
Set connectivity options: You can choose between wireless or wired connectivity modes for remote access to your EAGLE.
Set automatic power routines: You can define the status of each port when the EAGLE is powered on or shut down, enabling automatic activation and deactivation of your devices.
Connect to ECCO controller: If you have an environmental controller, EAGLE Manager X can automatically connect and control dew heater power based on calculated dew-point.
Save sensor data: Data from various sensors are saved in log files on the EAGLE for later analysis.
A Windows 11 Mini PC
There are various operating systems available in the modern world, each with their own strengths. However, most astronomy software and drivers are designed to work on Windows. To provide users with the flexibility to connect their preferred devices and use the software of their choice, the EAGLE runs on Windows. You can easily load any software that is compatible with Windows 10/11 on the EAGLE, just like you would on your standard Windows computer at home. This allows you to avoid being limited to one particular hardware manufacturer and customize the EAGLE according to your needs. The EAGLE5 uses a Windows 11 IoT Enterprise license, which is lighter and more stable compared to traditional PCs with Windows 11 Home or other OEM versions that come with unnecessary pre-installed software.
EAGLE is not just equipped with advanced astrophotography features, but also with the computing power of a full-fledged computer that surpasses that of a Mini PC, enabling you to use any astrophotography software you desire. To evaluate its performance, we conducted a PCMark benchmark test and compared EAGLE LE, EAGLE4, EAGLE5 S, EAGLE5 PRO, and EAGLE5 XTM with a typical Mini PC that we installed with the same EAGLE operating system to obtain precise results. The results, shown in the image below, indicate that EAGLE4/LE delivers a 32% better performance than a standard Mini PC with an Intel Celeron N3160 processor, 4GB of RAM, and SSD disk. EAGLE5 S increases the difference to an astonishing 183%, while EAGLE5 PRO achieves an even higher improvement of +231%. EAGLE5 XTM is the fastest of them all, providing an incredible boost of +316%!
Which EAGLE Is Right For You?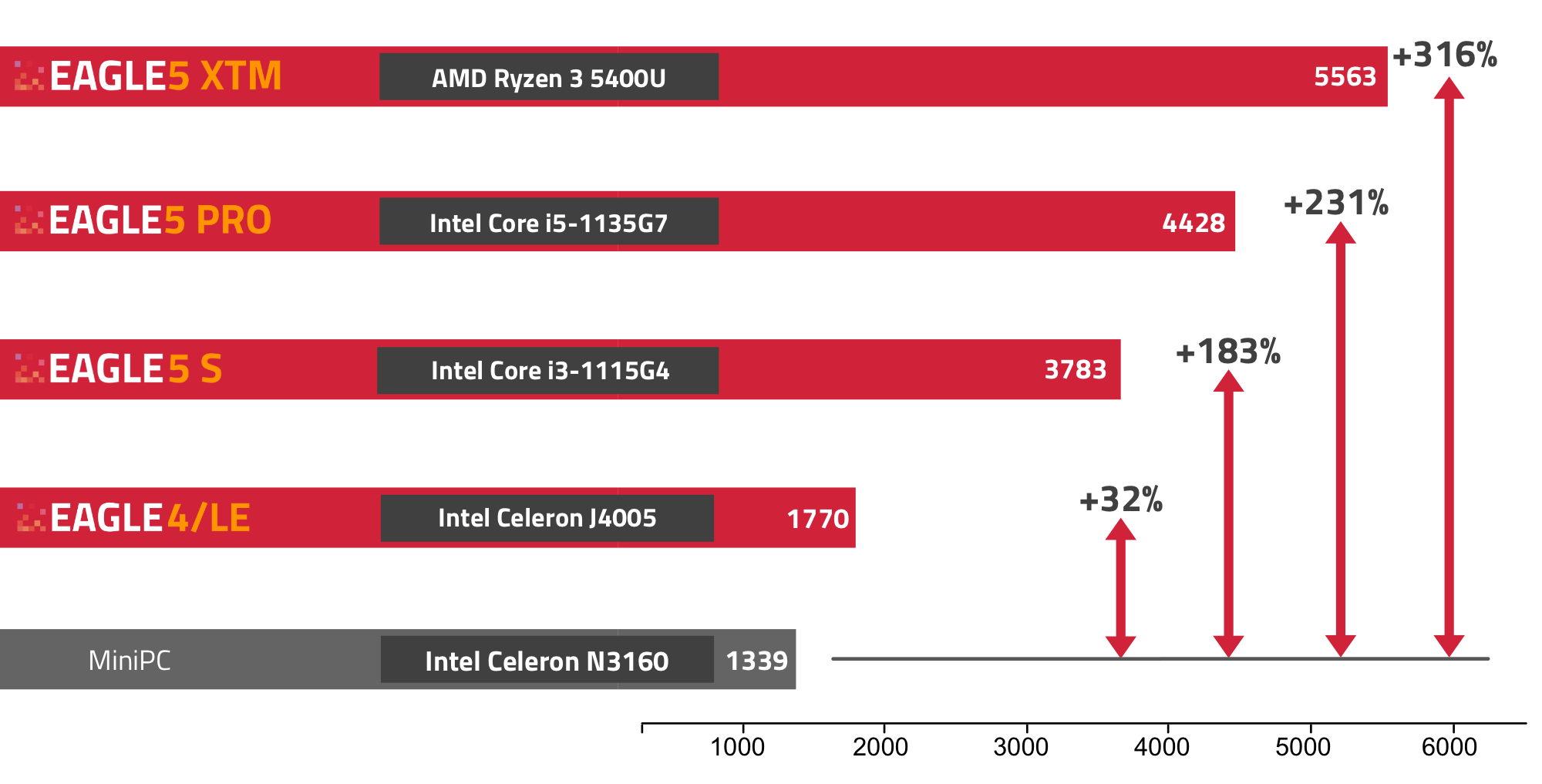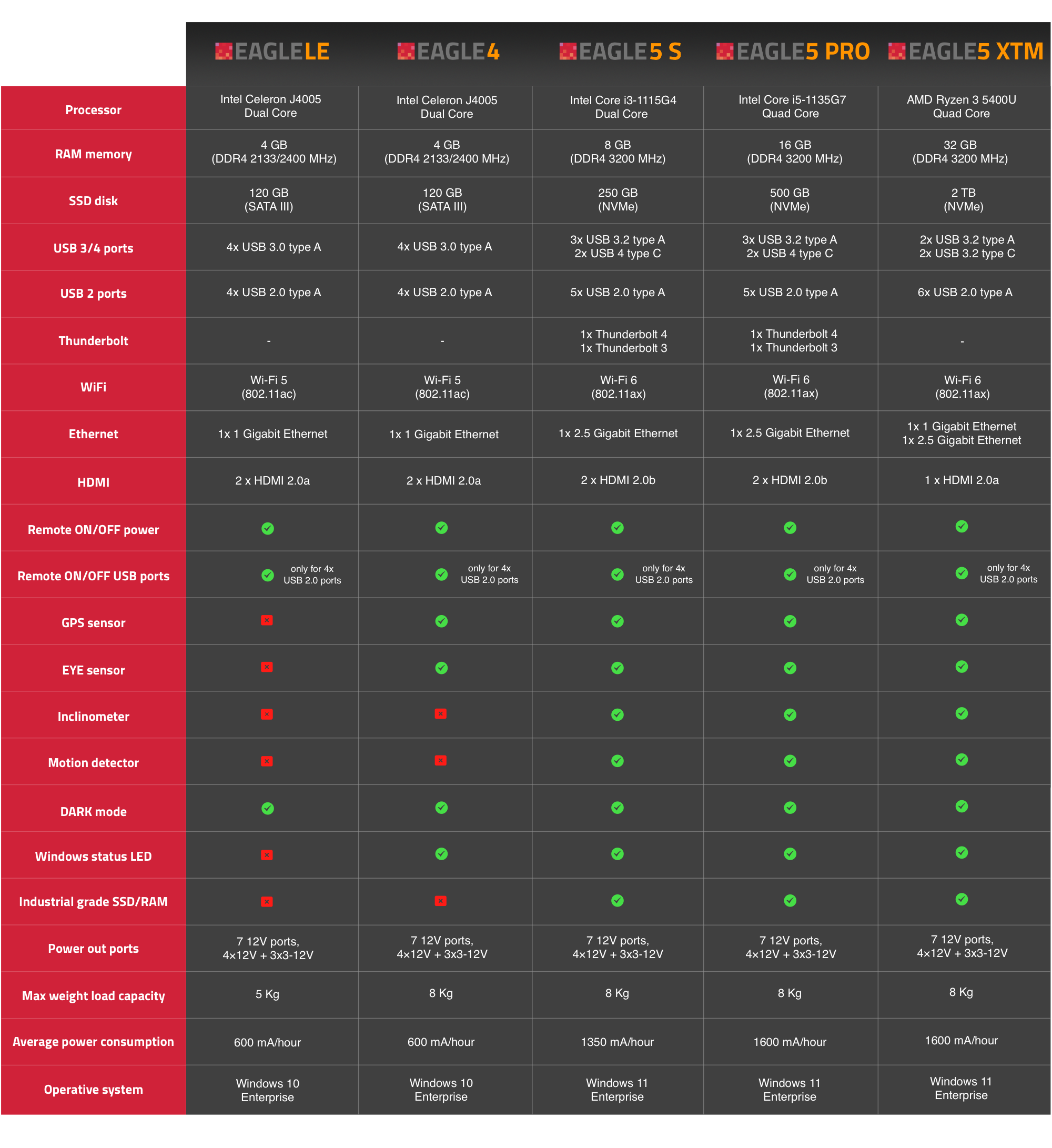 EAGLE5 Dimensions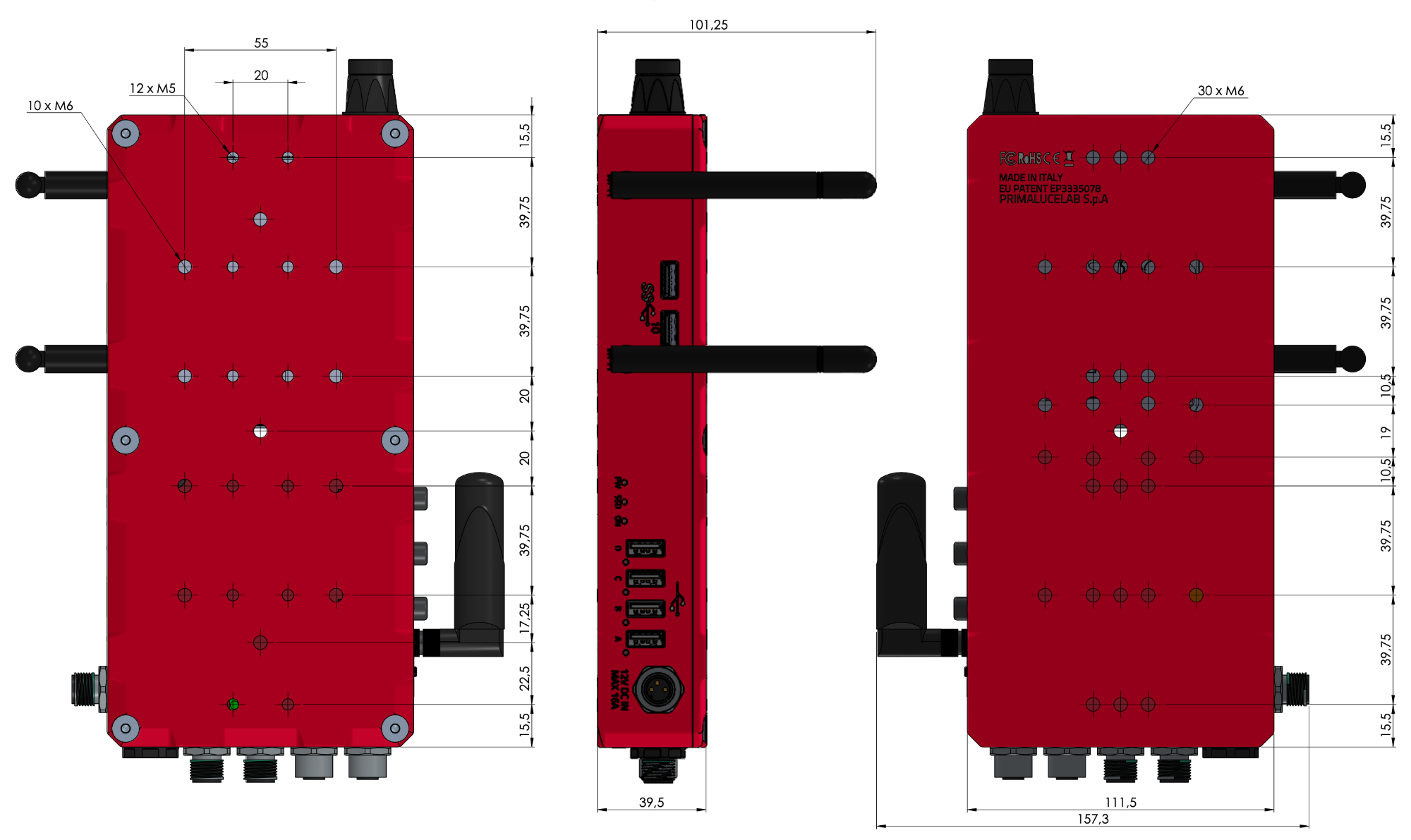 The EAGLE5 PRO boasts a range of advanced features and is housed in a lightweight, aluminum chassis that is both compact and all-in-one, making it ideal for installation on your telescope in the way that best suits your needs. By connecting all your USB and 12V power cables to the EAGLE, you can improve your cable management and streamline your astrophotography setup. Weighing just 1.25 kg (2.75 lbs), the EAGLE5 PRO is both portable and easy to handle. Additionally, the picture displays all the dimensions, including the positions of M6 and M5 threaded holes for connecting rings, bars, and clamps.
More Information

| | |
| --- | --- |
| Brand | PrimaluceLab |
| Free Shipping | Free Shipping Available |